Parent Technology Resources
General Resources
"Common Sense is the leading independent nonprofit organization dedicated to helping kids thrive in a world of media and technology. We empower parents, teachers, and policymakers by providing unbiased information, trusted advice, and innovative tools to help them harness the power of media and technology as a positive force in all kids' lives.
Common Sense Media helps families make smart media choices. We offer the largest, most trusted library of independent age-based and educational ratings and reviews for movies, games, apps, TV shows, websites, books, and music. Our Parent Concerns and Parent Blog help families understand and navigate the problems and possibilities of raising children in the digital age."
The website has a wealth of resources for parents on a wide range of topics and a
free email newsletter
available.
Parental Controls & Content Filtering
Not sure where to get started? Read Caroline Knorr's article, "
Everything You Need to Know About Parental Controls
." What is important to remember is that all methods are most effective when children feel supported and that they have open lines of communication with parents. Every student is different and parents should make decisions on what works best for their families.
As students take home their 1:1 iPads, parents that are interested in content filtering have a number of options to consider. The services and products below are a compilation of recommendations provided by Saint Mark's service providers and peers in educational technology for the purpose of supporting parents, rather than endorsement:
Circle with Disney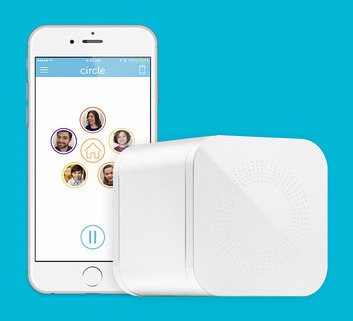 Amazon:
"Circle allows your family to manage all of your home's connected devices with ease. With Circle, parents can now filter content and limit screen time as well as set a bedtime for every device in the home. Circle can even pause the Internet and share what kids are up to online. How it Works: Circle pairs wirelessly with your home Wi-Fi and allows you to manage every device on the network-tablet, TV, or laptop. Using an iOS or Android app, families create unique profiles for every member of the home and from there, help shape each person's online experience. Additionally, for your kid's mobile devices there's Circle Go, which extends all of the settings your kid's devices have at home with Circle to 4G LTE and any other Wi-Fi network."
Image courtesy of TechHive.com
Securly.com: "Schools-owned devices coming home? Parents can now view their kids' activity across educational sites and time sinks, in-school and at-home across all of their school-owned devices. All of this is delivered via beautifully designed dashboards and e-mail reports!
At Home Settings: Customize what your student can do and see on their school-owned devices. Allow or deny access to specific sites and categories."

OpenDNS Family Shield
"FamilyShield is a completely free service that can be set up in minutes and blocks pornographic content, unsafe websites such as phishing sites attempting to trick people into readily providing personal and financial information, and many virus-spreading malware sites. FamilyShield takes effect instantly and can protect all Internet-connected computers, gaming consoles and Wi-Fi devices in a household."

OpenDNS Home
"Websites will load faster, and with OpenDNS' 100% up-time, you won't have to worry about unreachable websites and DNS outages from your ISP.
With over 50 customizable filtering categories, OpenDNS Web content filtering keeps parents in control of what websites children visit at home.
OpenDNS blocks phishing websites that try to steal your identity and login information by pretending to be a legitimate website. Surf the Web with confidence."
OpenDNS Home VIP
"OpenDNS Home package plus one year of usage stats & optional white-list mode."
Accountable2You.com:
"Simple Device Management
Each device has its own accountability partners
Simple installation of software/app for each device
Unlimited accountability partners
Real-Time Alerts
Instant Text Alerts for highly questionable activity
Alerts report generated hourly for all questionable activity
Alerts are easily identified and classified in our dashboard
Ability to adjust our rating system per computer/device"
*Note that not all features are available to iOS devices, including the iPad